Mayo Clinic Alumni Association Humanitarian Endowment
Mayo Clinic alumni have the opportunity to apply for a $2,500 scholarship from the Mayo Clinic Alumni Association Humanitarian Endowment to participate in global health projects in medically under-resourced areas of the globe.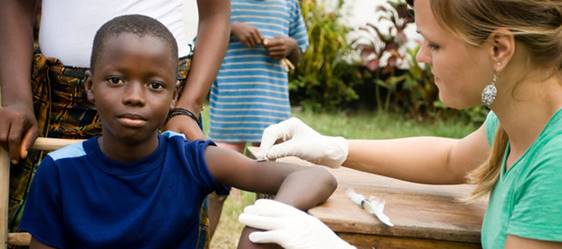 Important information:
All global health activities must be undertaken in conjunction with a Mayo Clinic physician or scientist on Mayo Clinic Abroad-endorsed trips.
If you would like to propose an activity not described on this page, James Bower, M.D. (N '95, MD '96), medical director of Mayo Clinic Abroad, will review your suggestion and connect you with an appropriate Mayo Clinic consultant.
Two $2,500 scholarships will be awarded each year. Application deadlines are described below under "How to apply."
Preference will be given to trips with a primary educational mission to promote sustainability.
The scholarship is intended to help defray costs up to a maximum of $2,500 per person.
An alumnus may receive only one award every five years.
Alumni who receive scholarship awards will be required to submit a brief report (250 words) about their activities including successes and challenges. This will help us improve the process for future applicants.
Alumni who wish to volunteer and do not require scholarship award assistance may participate in Mayo Clinic Abroad-endorsed trips by contacting Mayo Clinic Abroad
How to apply:
Step 1: Log in to the Alumni Association website. If you don't already have an account, you can register here. Submit an expression of interest by Dec 1, 2018. If you already know a consultant going on a trip, feel free to contact them directly. Otherwise, you can explore any open trip that may be of interest and submit that expression of interest by clicking on the "I'm Interested" button on any activity on this page.
Step 2: You'll hear back from Mayo Clinic by Jan. 1, 2019, with information and instructions about formally applying. The deadline for application submission is Feb. 1, 2019.
Step 3: You'll be notified by Mar. 31, 2019, if you've been awarded a scholarship.
About the Mayo Clinic Alumni Association Humanitarian Endowment
The Mayo Clinic Alumni Association Humanitarian Endowment was established in 2011. The fund was the brainchild of former Alumni Association President Eric Grigsby, M.D. (S '86, ANES '88), who provided the initial gift and encouraged other alumni to participate. Other alumni donated to the fund as did the Alumni Association to fully fund the endowment.
Use of the proceeds from the endowment will be determined by the Mayo Clinic Alumni Association Board of Directors in cooperation with Mayo Clinic Abroad strategic objectives for international activity. In general, endowment proceeds will be used to:
Help Mayo Clinic provide leadership in international health care.
Provide a focus for alumni who have interest in serving the medically underserved internationally.
Provide health care providers in underserved areas with appropriate medical education or other assistance in providing care and medical supplies with the intent that such assistance builds capacity rather than dependence.
Work collaboratively with other global health efforts at Mayo Clinic and in the underserved community.
Provide younger alumni with experiences mentored by experienced physicians and scientists who are committed to serving international communities in need.
To donate to the Mayo Clinic Alumni Association Humanitarian Endowment and increase future scholarships for this purpose, contact Emily K. Green, Department of Development, green.emily@mayo.edu, 800-297-1185/507-284-9101, to express your interest.
About Mayo Clinic Abroad
Mayo Clinic Abroad facilitates employees and alumni in their global health efforts that provide expert and sustainable medical education and research in medically underserved areas of the globe.
Mayo Clinic Abroad recognizes that participation in professional activities in resource-poor areas of the world can further develop a professional competence, broaden knowledge, and enhance participants' and Mayo Clinic's reputation.
Mayo Clinic Abroad supports trips where the primary mission is educational or research oriented.
Mayo Clinic Abroad does NOT support trips to resource-poor areas of the world where the primary purpose is the provision of medical care or service, a religious mission, or attending scientific meetings, presenting lecture or observing clinical procedures, or participating in recreational or entertainment activities.