2023 Distinguished Mayo Clinic Investigator award goes to Neill Graff-Radford, M.D.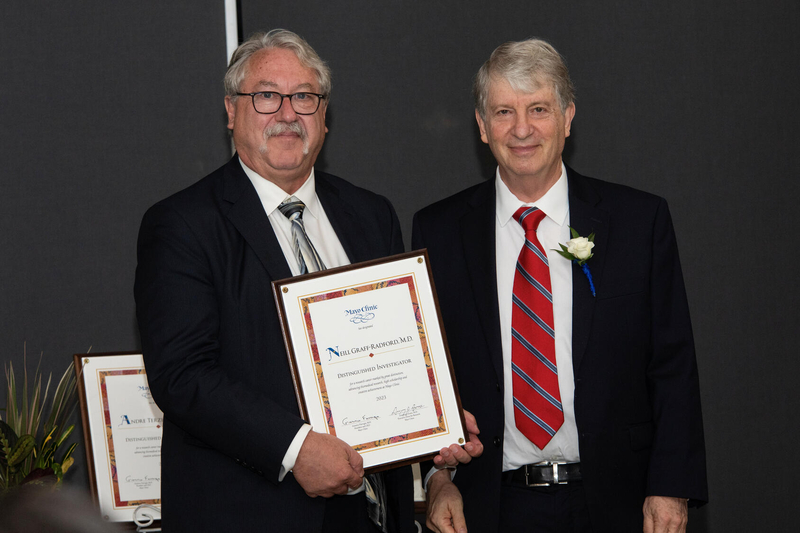 Neill Graff-Radford, M.D. (N '89), Department of Neurology at Mayo Clinic in Florida, has received the Distinguished Mayo Clinic Investigator Award. The award is presented to individuals whose research careers demonstrate evidence of great distinction, high distinguished scholarship, creative achievement, and excellence in education and administrative responsibilities.
During his 34-year career at Mayo Clinic, Dr. Graff-Radford has made a substantial impact on the understanding and treatment of neurological disease. His contributions to research include brain-behavior relationship studies; biomarker development for Alzheimer's disease; molecular genetic studies; clinical-pathological research; substantial impact on the understanding, treatment and prevention of normal pressure hydrocephalus and Lewy body disease; and the development of the largest brain bank for neurodegenerative disorders in the world, with more than10,000 specimens.
Dr. Graff-Radford has been a fellow of the Royal College of Physicians, London, for more than 20 years; has served in multiple capacities on the Alzheimer's Disease Research Grant Advisory Board for the state of Florida; and has been the David Eisenberg Professor at Mayo Clinic since 2018.
Dr. Graff-Radford has led the charge in developing widely accepted norms for neuropsychological data for African Americans and continues to contribute to diversity, equity and inclusion through his work in research with underserved populations. Dr. Graff-Radford and his team have received funding for more than 20 years to recruit and follow minority patients in clinical trials; published 38 peer-reviewed papers on the genetics, neuropsychology, imaging and biomarkers of underserved populations; and provided free medical evaluations to more than 550 African American patients.