Professional Achievement Award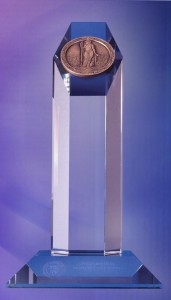 The Mayo Clinic Alumni Association Professional Achievement Award acknowledges exceptional contributions by an alum in a clinical, research, educational or administrative field. The recipient(s) will demonstrate the commitment of the Mayo brothers to practice, education and research.
As Charles H. Mayo, M.D., said, "Medicine gives only to those who give, but her reward for those who serve is 'finer than much fine gold.'"
The Professional Achievement Award is presented at the biennial meeting of the Alumni Association. Recipient(s) must attend the biennial meeting in order to receive the award.
Selection criteria
Alumni of Mayo Clinic who are in active practice and meet one or more of the following criteria will be considered:
Provide exceptional leadership in clinical medicine
Promote the art and science of medicine through education
Have shown significant leadership ability
Are recognized for contributions to the research community
Have had early career accomplishments with significant potential for further accomplishments.
Nomination Deadline: March 1, 2023
Nominate
Please submit the following to nominate a member of the Mayo Clinic Alumni Association for this award. Nominations must be submitted by another Mayo alumnus.
A completed nomination form
A letter of nomination, which should include specific examples of how the nominee has exceeded expectations in his or her area
The nominee's curriculum vitae and bibliography
At least three, but no more than five letters of recommendation
Supporting information, which may include letters of commendation, awards, newspaper articles or other information
A selection committee composed of representatives from the Mayo Clinic Alumni Association reviews the applications and makes the final selection.
Recipients
| | | |
| --- | --- | --- |
| Year | Recipient | Mayo Training |
| 2023 | Gregory Gores, M.D. | Internal Medicine (1983), Gastroenterology (1986) |
| 2023 | Audrey Nelson, M.D. | Internal Medicine (1969), Rheumatology (1971) |
| 2021 | J. Michael Bacharach, M.D. | Internal Medicine (1989), Cardiovascular Disease (1992) |
| 2019 | Claudette Lajam, M.D. | Orthopedics (2004) |
| 2017 | Jon V. Thomas, M.D. | Med School (1988), Otolaryngology (1993) |
| 2015 | Alan Sessler, M.D. | Anesthesiology (1962) |
| 2013 | William Oliver Jr., M.D. | Anesthesiology (1987) |
| 2011 | John R. Wheat, M.D. | Internal Medicine (1983) |
| 2009 | Nicholas F. LaRusso, M.D. | Internal Medicine (1972), Gastroenterology (1975) |
| 2007 |  John Cantwell, M.D. | Internal Medicine (1968) |
| 2005 | Shigeaki Kobayashi, M.D., Ph.D. | Surgery (1966), Neurosurgery (1971) |
| 2003 | Bernard Harris Jr., M.D. | Internal Medicine (1985) |