Alligator Tank competition at Mayo Clinic in Florida announces winners
Mayo Clinic in Florida held its annual Alligator Tank competition where presenters or teams have two minutes to pitch their idea to a live audience and panel of judges. Participants are asked to address the problem they're addressing, their solution, the business potential, market size, who the customer is, and revenue model.
The event was moderated by Charles Bruce, M.D. (I '96, CV '00), chief innovation office at Mayo Clinic in Florida and medical director for the campus Life Sciences Incubator.
Winning team
Biomimetic Human Tissue Simulation: Biomimetic simulators use 3-D printing for resident education in spinal anatomy, instrumentation and surgical techniques
William Clifton III, M.D. (NS '21), resident, Department of Neurologic Surgery, Mayo Clinic in Florida
Aaron Damon, simulation technologist
Mark Pichelmann, M.D. (MED '00, NS '06), Department of Neurologic Surgery, Mayo Clinic Health System in Eau Claire, Wisconsin
Eric Nottmeier, M.D. (NS '01), Department of Neurologic Surgery, Mayo Clinic in Florida
Alfredo Quinones-Hinojosa, M.D. (NS '16), chair, Department of Neurologic Surgery, Mayo Clinic in Florida
First runner-up
Bronchoscopic Needle-Wire: Device that serves as a guide for tracheostomy tube placement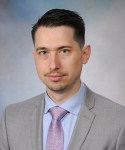 David Abia Trujillo, M.D. (THDC '21), resident, Division of Pulmonary and Critical Care Medicine, Mayo Clinic in Florida
Sebastian Fernandez- Bussy, M.D., Division of Pulmonary and Critical Care Medicine, Mayo Clinic in Florida
Second runner-up
Mayo Globe – VAD: Improved design for contemporary ventricular assist devices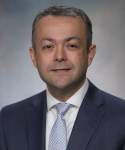 Basar Sareyyupoglu, M.D. (CS '09), Department of Cardiothoracic Surgery, Mayo Clinic in Florida
Magdy El-Sayed Ahmed, M.B., B.Ch., M.D. (CS '18), Department of Cardiothoracic Surgery, Mayo Clinic in Florida
Si Pham, M.D. (CS '18), chair, Department of Cardiothoracic Surgery, Mayo Clinic in Florida