Alumnus relies on Mayo pocket calendar for decades
As the year came to an end, alumnus Kenneth Mann, Ph.D. (HEM '72), filed away his 2016 Mayo Clinic pocket calendar along with his others, dating back to at least 1984. And he cracked open his 2017 Mayo pocket calendar, adding dates for a January trip to London and a scientific symposium of the Hemostasis & Thrombosis Research Society in Scottsdale, Arizona, in April.
"I like the format of the Mayo calendars," he says. "They help me determine what I did in past years on given dates – professional meetings, volunteer work and travel. Between the calendars and my passport, I can tell where I was at any given time. I have in my possession these calendars as far back as 1984 and probably farther back than that my archives at the University of Vermont.
"Perhaps most importantly, these calendars remind me of many fond memories at Mayo."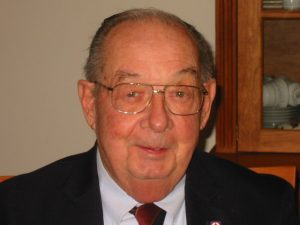 Dr. Mann, who lives in Grand Isle, Vermont, has a lot to keep track of in a career that spans almost 50 years. He was vice chair of the Department of Internal Medicine and a professor of biochemistry at Mayo Clinic from 1977 to 1984. He left to become the chair of biochemistry at the University of Vermont.
Dr. Mann became an emeritus professor In January 2016 and continues as an advisor to the National Institutes of Health (NIH) and Department of Defense on projects he initiated while at the university. He consults with the NIH about cancer research, bleeding and thrombosis. He has served in prominent volunteer roles in organizations including the American Society of Hematology, American Heart Association, Federation of American Societies for Experimental Biology, American Society for Biochemistry and Molecular Biology, and International Society for Thrombosis and Hemostasis. He is on the board of directors of the Foundation for Women & Girls with Blood Disorders and consults for pharmaceutical companies. He also is chair of the board of Haematologic Technologies, a company he founded in 1987. He continues writing papers on bleeding and thrombosis.
He's a member of scientific advisory boards including the Gladstone Foundation for Cardiovascular Research at University of California, San Francisco; New York Blood Center; Steering Committee of Advanced Technology Applications for Combat Casualty Care; and an ad hoc reviewer for the NIH and National Science Foundation. He was a founding member of the scientific advisory committee of the LeDuc Foundation with Mayo colleagues Robert Frye, M.D. (CV '62), and Robert Wallace, M.D. (CS '64).
He received the Mayo Clinic Distinguished Alumni Award in 2004. He also has received the Distinguished Alumni Award from the University of Iowa (2012); Lifetime Achievement Award from the Hemostasis & Thrombosis Research Society (2012); Distinguished Scientist Award from the American Heart Association (2011); Henri Chaigneau Prize from the Association Francaise des Hemophiles (2010); Pioneer in Hematology Award (2008), E. Donnall Thomas Prize (2002) and Straton Medal (1992) from the American Society of Hematology; and Special Recognition Award in Thrombosis from the American Heart Association (2007).
If you didn't receive your 2017 Mayo Clinic pocket calendar and would like one, call or email the Alumni Center, 507-284-2317/mayoalumni@mayo.edu.