Climb the Clinic 2018: Some train, some participate on a whim; some do it to win, some do it for the love of the climb
The Mayo Fellows' Association sponsors Climb the Clinic, a fund-raiser that benefits the Mayo Clinic HOPE Fund, which provides financial assistance to Mayo patients who need help covering health care-related expenses such as food, lodging and transportation.
In its eighth year, Climb the Clinic attracted more than 150 Mayo Clinic faculty, staff, employees, students, residents, fellows, and postdoctoral fellows and research fellows. The Mayo Fellows' Association donated $2,000 from the event to the Mayo Clinic HOPE Fund.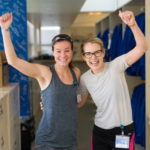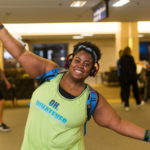 Brother bests brother in back-to-back Climb the Clinic wins
Last year, Santiago Ocariz, R.N., won the seventh-annual Climb the Clinic event in which Mayo Clinic participants climb 1,345 stairs in four of the tallest buildings on the Rochester campus. On Feb. 10, 2018, Ocariz's brother, Javier Ocariz-Elsen, a health unit coordinator, won the event, recording the second-fastest time ever. Last year's winner Ocariz wasn't able to participate due to a last-minute call to work.
Since the start of the year, the two brothers had trained together on the Mayo Clinic Hospital — Saint Marys Campus where both work. "There are some pretty decent stairs to train on the Saint Marys Campus," says Ocariz-Elsen. "I knew about Climb the Clinic from Santi, so we did repeat runs up the Mary Brigh building staircase on our breaks for about a month before the event. Even though we're in our thirties now, we're just as competitive as when we were kids — trying to one-up each other every day."
Ocariz-Elsen was new to Climb the Clinic. "I'd had a nasty running injury, and this was my first event back after several surgeries and a lot of physical therapy," says Ocariz-Elsen. "Hopefully next year my brother and I will both be healthy, present and able to compete together."
The event involves ascending the stairs in the Stabile, Siebens, Mayo and Plummer buildings, from the subway level to the top floor. Participants can compete, do it just for fun or run as part of a team.
Physicians climbing for health and the challenge
Myra Wick, M.D. (PHAR '93, LABM '94, MED '04, OBG '08), Department of Obstetrics and Gynecology, climbed with her co-workers Vanessa Torbenson, M.D. (OBG '13), and Rebecca Murray, R.N. This was her second year participating in Climb the Clinic.
"I like the challenge and health benefits of climbing," says Dr. Wick. "I also love to climb the fire tower in Elba and the steps at John A. Latsch State Park."
Torrence Wilson, M.D. (U '87), an Emeriti Staff member, climbed the clinic for the first time in 2018. "I'm not a stair climber, so I didn't know what I was getting into," he says. "I woke up on event day and did it cold with no prep. Climb the Clinic is well suited for everyone — you don't have to be an athlete to enjoy the climb. As an added bonus, I met a few people and saw a few friends on the stairs.
Staff members challenge themselves in different ways
Pharmacy resident Patrick Wieruszewski, Pharm.D., R.Ph. (APPE '16), climbed the clinic last year with a co-resident, "just for fun." This year he challenged himself with a little something extra: he wore a 20-pound weighted vest while he ascended the four buildings. He asked friends and family to donate to the HOPE Fund in recognition for his efforts and to help the patient-assistance fund. "I'm happy to say that my time with the vest this year was a minute faster than last year without the vest," says Wieruszewski.
For Michael Lander, Pharm.D., R.Ph., Climb the Clinic was a natural extension of his daily routine of using stairs to get everywhere in the hospital (except when following the code cart). He ran in honor of his grandmother, Ruth, a lifelong proponent of learning, the health care disciplines and holistic well-being.
"Climb the Clinic is a great event and a strong tradition to maintain," says Lander, who placed third in this year's event. "It's friendly competition in an encouraging environment and a healthy jumpstart to a Saturday morning. I encourage everyone to take the stairs and encourage patients, colleagues and friends to do the same."
GI Patient Appointment Coordinator Ruth Grimm participated in Climb the Clinic for the first time this year. She began training at the start of the year despite a bad knee. "A group of friends at work challenged each other to use the stairs instead of the elevator," she says. "On my afternoon breaks, I started climbing stairs, starting a few floors at a time and working my way up to a stairwell in the Mayo Building that took me to the 21st floor."
Grimm lost 135 pounds in the last two years, thanks to activity including CrossFit, Zumba and, now, stair climbing. "I stumbled upon Climb the Clinic, and it was just what I'd been 'training' for," she says. "I would happily do it again and again and again. Next year, I'm gathering co-workers to do it with me!"
Injured top finisher hopes to be back next year
Mario Minelli, a senior claims adjuster, was the fourth-place finisher last year and second-place finisher in 2016, 2015, 2014, 2013 and 2012 but couldn't compete this year. "I had a tension plate and six screws put on my left tibia due to a nonhealing stress fracture I've had for two-and-a-half years," he says. "Sixty-four floors wouldn't have been very fun on crutches. I hope to return to the climb next year."
Top finishers men
Javier Ocariz-Elsen – TIME: 6:31
Paul Yerhot, P.T., D.P.T. (PTI '14, PTR '17) – TIME: 6:39
Michael Lander, Pharm.D., R.Ph. – TIME: 7:57
Scott Marsh, M.S.N., R.N. – TIME: 8:23
Enrico Giordan – TIME: 8:26
Quinten Bissonette, M.A.N., R.N. – TIME: 8:39
Jacob Sellon, M.D. (PMR '11, SPMD '12) – TIME: 8:59
Mark Gebhard, C.N.M.T. (NUMT '89) – TIME: 9:06
Top finishers women
Jennifer Noiles – TIME: 8:15
Alex Guillard, R.N. – TIME: 8:54
Mary Wirtz, R.D.N., L.D. – TIME: 8:56
Elizabeth Marvin, M.D. (I '18) – TIME: 9:56
Kristen Frie, R.D.N., L.D. – TIME: 10:58
Stephanie Heins – TIME: 11:07
Alexandra Wennberg, Ph.D. (HYT RES '17) – TIME: 11:56
Amy Heitz, R.N. – TIME: 12:18