Jon Tilburt, M.D., receives Mayo Clinic Values Council research award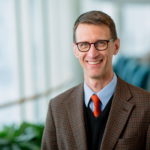 Jon Tilburt, M.D. (I '07), Division of General Internal Medicine, Department of Medicine at Mayo Clinic in Rochester, received a 2017 research award from the Mayo Clinic Values Council Research Committee. The committee sponsors values-based research and quality improvement proposals with an annual competition for funding. Awards are granted to investigators whose proposals show potential to advance Mayo Clinic values.
Dr. Tilburt's proposal was "Measuring Moral Distress in Health Care Professionals." His co-author was Joan Henriksen.
Dr. Tilburt is a professor of biomedical ethics and medicine in the Mayo Clinic College of Medicine and Science.