Nilufer Erketin Taner, M.D., Ph.D., chairs first program session at 2018 NIH Alzheimer's Research Summit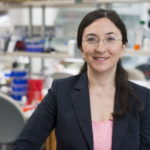 Nilufer Ertekin Taner, M.D., Ph.D. (NSCI '03, I-1 '04, N '07, N-BN '08), Department of Neurology at Mayo Clinic in Florida, chaired the first program session at this year's NIH Alzheimer's Research Summit on March 1-2. Dr. Taner studies Alzheimer's disease, including identifying genetic risk factors for AD in African-Americans.
Dr. Taner led the session "Novel Mechanistic Insights into the Complex Biology and Heterogeneity of AD," including her individual presentation, "Rediscovering Myelin: From Genetics to Molecular Mechanisms." The summit advances the interdisciplinary research agenda needed to enable precision medicine for AD.
Dr. Taner is a professor of neurology and neuroscience in the Mayo Clinic College of Medicine and Science.