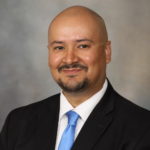 J. Luis Lujan, Ph.D. (NS '17), Division of Neurologic Surgery and Department of Physiology and Biomedical Engineering at Mayo Clinic in Rochester, was named assistant dean for Diversity and Inclusion of Mayo Clinic Graduate School of Biomedical Sciences.
Dr. Lujan is the first person in this role. He will formulate and implement diversity and inclusion strategies and work with students and faculty at Mayo campuses in Minnesota, Arizona and Florida to advance and expand the school's long-standing, nationally recognized diversity efforts.
For more than 25 years, Mayo Clinic Graduate School of Biomedical Sciences, which provides Ph.D. degree biomedical research training, has been on a mission to change the face of research to include more scientists from backgrounds underrepresented in science. The school recently received renewal of a five-year ($2.2 million) National Institutes of Health federal grant to continue those efforts.
Dr. Lujan is a co-lead and assistant director of Mayo's Postbaccalaureate Rseearch Education Program and an assistant professor of biomedical engineering and neurosurgery in the Mayo Clinic College of Medicine and Science.