Rick Nishimura, M.D., has a new namesake: American College of Cardiology Emerging Faculty program bears his name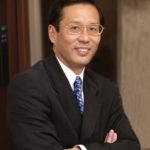 Rick Nishimura, M.D. (I '80, CV '83), chair of the Division of Structural Heart Disease in the Department of Cardiovascular Medicine at Mayo Clinic in Rochester, has a new namesake: the American College of Cardiology's (ACC) Emerging Faculty program is now known as the Rick Nishimura, M.D., MACC, and Patrick T. O'Gara, M.D., MACC, Emerging Faculty Leadership Academy.
The program also was endowed from the Michael Wolk Heart Foundation to ensure the ACC has a consistent pipeline of trained clinician educators into the future. The Emerging Faculty program promotes development of leadership and educator skills for early-career clinicians.
Drs. Wolk, Nishimura and O'Gara were prime contributors to the original vision of the program, which focuses on training clinicians to be effective faculty and leaders. In 2017 the ACC received almost 100 applications for the highly coveted 22-person program.
Dr. Nishimura is a professor of medicine in the Mayo Clinic College of Medicine and Science.