Abba Zubair, M.D., is dean of Education at SSMC, Abu Dhabi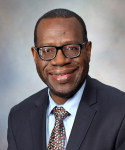 Abba Zubair, M.D. (LABM '03), is now dean of Education at Sheikh Shakhbout Medical City (SSMC) in Abu Dhabi, UAE. Dr. Zubair works with SSMC CEO Naser Ammash, M.D., to make SSMC the center of medical education in the Middle East through innovation, technology, talent and collaboration with Mayo Clinic and other educational institutions. He will play an invaluable role in setting and directing the education mission and training the next generation of physician, nursing and allied health leaders.
Dr. Zubair was medical director of Transfusion Medicine and Stem Cell Therapy at Mayo Clinic in Florida s. Since 2014, Dr. Zubair has also been the associate dean of Mayo Clinic School of Health Sciences.
SSMC is a 740-bed hospital established as a joint venture between Abu Dhabi Health Services Company (SEHA), the largest healthcare network in UAE, and Mayo Clinic. Dr. Maalouf is a professor of Medicine in the Mayo Clinic College of Medicine and Science.