Alex Adjei, M.D., Ph.D., receives inaugural Adi F. Gazdar IASLC Merit Award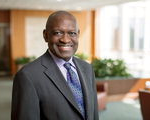 Alex Adjei, M.D., Ph.D. (ONCL '95), Division of Medical Oncology at Mayo Clinic in Rochester, is the inaugural recipient of the Adi F. Gazdar IASLC (International Association for the Study of Lung Cancer) Merit Award. Dr. Adjei is recognized for his many accomplishments in cancer drug development. Dr. Adjei is a professor of oncology and pharmacology in the Mayo Clinic College of Medicine and Science.
Dr. Adjei is editor-in-chief of the Journal of Thoracic Oncology (JTO) and inaugural editor-in-chief of JTO Clinical Research Reports. Both journals feature novel research about the prevention, detection, diagnosis and treatment of all thoracic malignancies. He also is director of the Early Cancer Therapeutics Program across all three Mayo Clinic sites, and leader of the Lung Cancer Program at these locations. He is the principal Investigator of the Mayo phase I and phase II NCI grants.