Alexander Egbe, M.B.B.S., receives R01 grant from NHLBI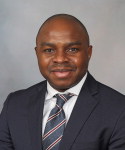 Alexander Egbe, M.B.B.S. (CVCH '16), Division of Structural Heart Disease at Mayo Clinic in Rochester, was awarded an R01 grant for his project "Pathophysiologic Mechanism for Arrhythmias and Impaired Aerobic Capacity in Tetralogy of Fallot." The award is funded by the National Heart, Lung, and Blood Institute.
Dr. Egbe is an associate professor of medicine in the Mayo Clinic College of Medicine and Science.