Allan Jaffe, M.D., receives American College of Cardiology's 2018 Distinguished Teacher Award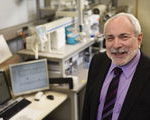 Allan Jaffe, M.D. (CV '99), consultant in the Department of Cardiovascular Medicine and chair of the Division of Clinical Core Laboratory Services at Mayo Clinic in Rochester, received the 2018 Distinguished Teacher Award from the American College of Cardiology. The award recognizes innovation, outstanding teaching characteristics and compassion.
Dr. Jaffe is a professor of laboratory medicine and pathology and medicine in the Mayo Clinic College of Medicine and Science.