Amanda Bonikowske, Ph.D., is co-program director, cardiac rehab program, Mayo Clinic Rochester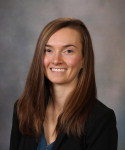 Amanda Bonikowske, Ph.D. (CV '17), Division of Preventive Cardiology, Department of Cardiovascular Medicine at Mayo Clinic in Rochester, is now co-program director of the cardiac rehab program.
As an exercise physiologist, she is active in clinical practice, education and research in the Cardiovascular Health Clinic. Dr. Bonikowske is an assistant professor of medicine in the Mayo Clinic College of Medicine and Science.