Ammar Killu, M.B.B.S., joins Department of Cardiovascular Medicine, Mayo Clinic Rochester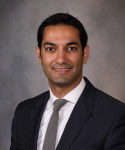 Ammar Killu, M.B.B.S. (I-1 '11, I '13, CV '16, CV '17), has joined the Division of Heart Rhythm Services, Department of Cardiovascular Medicine at Mayo Clinic in Rochester, as a senior associate consultant. He has been a Mayo Clinic Scholar in the Heart Rhythm Laboratory.
Dr. Killu completed his internal medicine and cardiovascular disease training at Mayo Clinic School of Graduate Medical Education, and a year of electrophysiology training at Brigham and Women's Hospital in Boston, Massachusetts. He received his medical degree from St. George's Hospital Medical School in London, where he is from.