Anand Padmanabhan, M.B.B.S., Ph.D., presents keynote talk at the international seminar co-organized by WIPO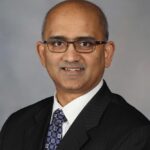 Anand Padmanabhan, M.B.B.S., Ph.D. (LABM & PATH '20), Division of Hematopathology, Department of Laboratory Medicine and Pathology at Mayo Clinic in Rochester, presented the keynote talk on translation of innovative technologies at the international seminar "Harnessing Public Research for Innovation in the Time of COVID-19 and Beyond – The Role of Knowledge Transfer Policies," co-organized by the World Intellectual Property Organization (WIPO), an arm of the United Nations based in Geneva, Switzerland. It was an online event attended by 1,600 people, with participants from around the world, including government representatives.
Dr Padmanabhan is an associate professor of laboratory medicine and pathology in the Mayo Clinic College of Medicine and Science.