Anand Padmanabhan, M.B.B.S., Ph.D., receives NIH R01 grant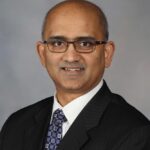 Anand Padmanabhan, M.B.B.S., Ph.D. (LABM & PATH '20), Department of Laboratory Medicine and Pathology, received his first NIH R01 grant. Dr. Padmanabhan will continue his research on heparin-induced thrombocytopenia (HIT) and related diseases, and develop novel laboratory assays to diagnose HIT and other related disorders, such as vaccine-induced immune thrombotic thrombocytopenia.
Dr. Padmanabhan is an associate professor of laboratory medicine and pathology in the Mayo Clinic College of Medicine and Science.