Barbara Pockaj, M.D., is on ASU-led team that discovers new role of fibroblast cells in spread of breast cancer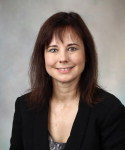 Barbara Pockaj, M.D. (S '95), Department of Surgery at Mayo Clinic in Arizona, was part of a team led by Arizona State University that discovered a new role that fibroblast cells play in the spread of breast cancer tumors using microfluidic tumor models.
Dr. Pockaj is a professor of surgery in the Mayo Clinic College of Medicine and Science.