Barbara Pockaj, M.D., receives U01 award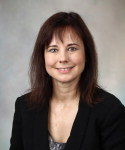 Barbara Pockaj, M.D. (S '95), Department of Surgery at Mayo Clinic in Arizona, was awarded a U01 to study pre-analytical factors affecting circulating tumor DNA-analysis in early and locally advanced breast cancer patients. The award includes Mayo Clinic in Arizona and T-Gen collaborators.
Dr. Pockaj is a professor of surgery in the Mayo Clinic College of Medicine and Science.