Catherine Madaffari, M.D., named the American Lung Association's Lung Force Hero for Florida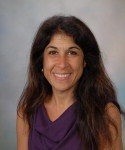 Catherine Madaffari, M.D. (I '12), Division of Community Internal Medicine, Department of Internal Medicine at Mayo Clinic in Florida, was named the Lung Force Hero for Florida by the American Lung Association. She will join counterparts from the other 49 states in asking Congress to support increased funding for the National Institutes of Health for better treatment and early detection of lung cancer. As part of the association's Lung Force Initiative,
Dr. Madaffari, a lung cancer survivor, will share her story on Capitol Hill and explain why quality, affordable heatlh care is especially important for lung cancer patients.
"As a former marathon runner, vegetarian and otherwise healthy person with no family history, a diagnosis of adenocarcinoma of the lung was not something I ever thought I'd hear," says Dr. Madaffari. "Because of early detection and the astuteness of my Mayo Clinic colleagues, I was diagnosed at stage 1 and am now a 2-1/2-year cancer survivor. We need more voices in this fight against cancer, and I am proud to share my story and advocate on behalf of the millions of people who have been affected by lung cancer."
Dr. Madaffari is an instructor in medicine in the Mayo Clinic College of Medicine and Science.