Daniel Breitkopf, M.D., receives Mayo Clinic Karis Award for demonstration of Mayo Clinic values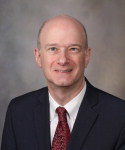 Daniel Breitkopf, M.D. (OBG '10), chair of the Division of Gynecology, Department of Obstetrics & Gynecology at Mayo Clinic in Rochester, received a Mayo Clinic Karis Award, which recognizes caring people who live out the Mayo Clinic values in an extraordinary way as they serve patients, visitors and colleagues.
A nominator said, "He is quite often the first to volunteer and add to his workload. His patient-centered focus inspires other members of the team to do the same."
Dr. Breitkopf is an associate professor of obstetrics and gynecology in the Mayo Clinic College of Medicine and Science.