David W. Larson, M.D., is involved in first in-human study of da Vinci SP Surgical System in rectal cancer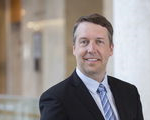 David W. Larson, M.D. (S '02, CRS '03), chair, Division of Colon and Rectal Surgery at Mayo Clinic in Rochester, is involved in a first in-human study "A Prospective, Single-Center Investigation of the da Vinci SP Surgical System in Colorectal Procedures for Benign and Malignant Disease," of the SP robot in rectal cancer.
The SP is only approved for urological procedures and, to be approved for colorectal surgery, a study is needed. Mayo will be the lead study site and will provide the potential for colorectal surgery to ultimately expand the use of single incision to many patients with colonic disease. This has been a trial in process for more than one year and was approved by the FDA this summer for consideration at Mayo Clinic. Dr. Larson is a professor of surgery in the Mayo Clinic College of Medicine and Science.