David Warner, M.D., and Thulasee Jose, M.D., receive awards
David Warner, M.D. (ANES '87), Division of Pediatric Anesthesiology, Department of Anesthesiology and Perioperative Medicine at Mayo Clinic in Rochester, and his mentee Thulasee Jose, M.D. (ANES '18), a research fellow, received two awards. Their proposal "Mayo Clinic-Karolinska Institutet – Women in Science Empowerment Initiative" won a position in the 2019 Mayo Clinic-Karolinska Institutet Transform The Collaboration Pitch Competition Finals. They will travel to Stockholm in September to attend the Mayo Clinic-Karolinska Institutet Annual Research meeting.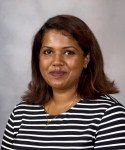 Their proposal "Assessment of Electronic Nicotine Delivery Device Use in Electronic Medical Records" was selected by the Yale-Mayo Clinic Center for Excellence in Regulatory Science and Innovation (CERSI) for the 2019-2020 Scholars Award program. This award supports mentored regulatory science research at Yale University and Mayo Clinic that addresses the FDA's CERSI regulatory science research priority areas.