David Warner, M.D., serving on National Comprehensive Cancer Network Smoking Cessation Guidelines Panel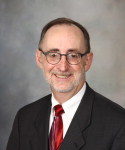 David Warner, M.D. (ANES '87), Division of Pediatric Anesthesiology, Department of Anesthesiology and Perioperative Medicine at Mayo Clinic in Rochester, now serves as a Mayo Clinic representative on the National Comprehensive Cancer Network (NCCN) Smoking Cessation Guidelines Panel.
The NCCN is a nonprofit alliance of leading cancer centers dedicated to improving the quality, effectiveness and efficiency of care for cancer patients. The Mayo Clinic Cancer Center (MCCC) was elected to NCCN membership in 2014. NCCN membership offers the MCCC the opportunity to work with leadership and clinical professionals at other NCCN member institutions to create clinical practice guidelines appropriate for use by patients, clinicians and other health care decision-makers. NCCN guidelines carry significant influence over the practice of cancer medicine and provider reimbursement in the U.S. and internationally.
Dr. Warner is a professor of anesthesiology in the Mayo Clinic College of Medicine and Science.