Devyani Lal, M.D., is dean of Education, Mayo Clinic in Arizona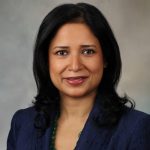 Devyani Lal, M.D. (ENT '10), chair, Division of Otolaryngology-Head & Neck Surgery/Audiology at Mayo Clinic in Arizona, was named dean of education in Arizona. She will transition from her current roles as vice chair of the Department of Education in Arizona and dean of Mayo Clinic School of Continuous Professional Development in Arizona. Dr. Lal succeeds Richard Zimmerman, M.D. (NS '90), Department of Neurologic Surgery.
Dr. Lal is a professor of otolaryngology in the Mayo Clinic College of Medicine and Science.