Dietrich Matern, M.D., Ph.D., receives Mayo Clinic Karis Award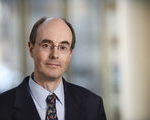 Dietrich Matern, M.D., Ph.D. (LABM '99), co-director of the Biomechanical Genetics Laboratory and chair of the Division of Laboratory Genetics at Mayo Clinic in Rochester, received a Mayo Clinic Karis Award for exceptional work performance reflecting the Mayo/Franciscan values.
He was nominated by staff at all levels for the award. A nominator said, "Dr. Matern embodies the qualities of healing and hope in the world of medicine. His mission is to provide the greatest possible care for every patient sample that comes into our lab."
Dr. Matern is a professor of laboratory medicine and pathology and medical genetics and pediatrics in the Mayo Clinic College of Medicine and Science.