Donald Northfelt, M.D., receives Arizona Diversity and Inclusion Award from Mayo Clinic Office of Diversity and Inclusion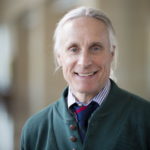 Donald Northfelt, M.D. (HEMO '02), Division of Hematology and Oncology, Department of Internal Medicine, Mayo Clinic in Arizona, received the Arizona Diversity and Inclusion Award from the Mayo Clinic Office of Diversity and Inclusion. The award recognizes Dr. Northfelt's contributions to improve the delivery and equity of care, and for helping clinicians, health care leaders, allied health staff and others make informed choices about health disparities research at Mayo Clinic.
Dr. Northfelt partners with other Mayo clinicians to bring clinical research studies to racial and ethnic minorities, rural populations and people from disadvantaged socioeconomic backgrounds. For more than 10 years he has been a champion for Native American cancer patients at Phoenix Indiana Medical Center (PIMC), an Indian Health Service hospital and a Mayo Clinic community partner. He leads and serves as one of five Mayo Clinic consultants who provide medical care at PIMC.
Dr. Northfelt also was recognized for excellence in clinical care, compassion and cultural sensitivity. He has served as an informal patient navigator to ensure PIMC patients referred to Mayo Clinic are welcomed, seen in a timely manner and receive the highest level of care. He has promoted their enrollment in Mayo Clinic clinical trials by addressing barriers in areas such as insurance coverage.
Dr. Northfelt has been a principal investigator or co-principal investigator on dozens of clinical trials in HIV medicine, hematology and medical oncology (primarily breast cancer). He is an active member of the Coalition of Blacks Against Breast Cancer, where he is a frequent presenter to educate, inform and support breast cancer survivors.
Dr. Northfelt also championed a research study to promote culturally tailored care by capturing the experiences of Mayo Clinic Cancer Center patients from diverse ethnic backgrounds, including patients who are African American, Native American, Hispanic/Latino or Asian/Pacific Islander.
Dr. Northfelt is a professor of medicine in the Mayo Clinic College of Medicine and Science.