Douglas Packer, M.D., receives President's Award from Heart Rhythm Society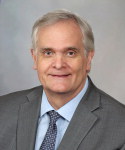 Douglas Packer, M.D. (CV '89), Division of Heart Rhythm Services at Mayo Clinic in Rochester, received the President's Award from the Heart Rhythm Society. He has served the Heart Rhythm Society as president, vice president, treasurer and board member.
Dr. Packer is a professor of medicine in the Mayo Clinic College of Medicine and Science.