Elitza Theel, Ph.D., named by Business Insider in 30 Leaders Under 40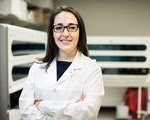 Elitza Theel, Ph.D. (CM '12), Division of Clinical Microbiology and director of the Mayo Clinic Infectious Diseases Serology Laboratory, was named by Business Insider as one of its 30 Leaders Under 40. The designation recognizes young scientists and health care workers fueling change on the frontlines of America's health care system. Dr. Theel has been instrumental in Mayo Clinic's laboratory innovations and activities during the global pandemic including evaluating tests for COVID-19 and advising government officials about testing and lab operations.
Dr. Theel is an associate professor of laboratory medicine and pathology in the Mayo Clinic College of Medicine and Science.