Feichen Shen, Ph.D., receives Gerstner Family Career Development Award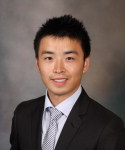 Feichen Shen, Ph.D. (HSR '17), Division of Digital Health Sciences in the Department of Health Sciences Research at Mayo Clinic in Rochester, received a Gerstner Family Career Development Award for his project "Pioneering AI Algorithms to Treat Cancer." Dr. Shen is working to accelerate the translation of cancer drug repurposing into clinical practice. He is developing a precision oncology drug-repurposing framework that leverages artificial intelligence techniques.
Dr. Shen is an assistant professor of biomedical informatics in the Mayo Clinic College of Medicine and Science.
The competitive awards are presented annually by Mayo Clinic Center for Individualized Medicine to researchers who are early in their careers and conducting innovative investigations to predict, prevent, treat and cure disease using individualized medicine approaches. The award provides important seed money for early-stage investigators interested in launching a career in individualized medicine.