Gene Siegal, M.D., Ph.D., named Distinguished Professor, University of Alabama Birmingham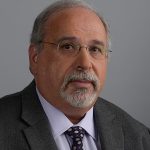 Gene Siegal, M.D., Ph.D. (PATH '79), the Robert W. Mowry Endowed Professor and executive vice chair, Department of Pathology at the University of Alabama Birmingham (UAB), is now a Distinguished Professor. Dr. Siegal's appointment was approved by the University of Alabama Board of Trustees and is the first such honor for a pathologist at UAB.
Dr. Siegal is best known for his experimental work in tumor invasion, metastasis in breast cancer, and gene therapy. His publication record includes 10 books and 850 peer-reviewed manuscripts, book chapters, abstracts, and other professional writings. He is editor-in-chief of Laboratory Investigation. Since 2008, Dr. Siegal has served as director of UAB Hospital Labs, holding the institution's crucial CLIA license. His leadership assignments for professional associations include serving as president of the Arthur Purdy Stout Society of Surgical Pathologists and American Society of Clinical Pathologists. The American Society of Investigation Pathology honored him with its Distinguished Educator Award and the College of American Pathologists with its Lifetime Achievement Award.
Dr. Siegal is a former member of the Mayo Clinic Alumni Association Board of Directors.