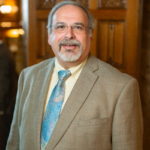 Gene P. Siegal, MD, PhD, FASCP (PATH '79), was installed as the 2019-2020 president of the American Society for Clinical Pathology (ASCP) during the Society's Annual Meeting held September 11-13 in Phoenix.
A distinguished educator, Dr. Siegal is the Robert W. Mowry Endowed Professor of Pathology at the University of Alabama at Birmingham (UAB) and Executive Vice-Chair of Pathology at UAB Medicine, in Birmingham, Alabama. Since January 2018, he has also served as the Interim Chair of the Department of Genetics at UAB. He is an experimental and diagnostic pathologist whose research interest, for over three decades, has been focused on cancer biology. His clinical research interests have centered on studies of bone tumors and related conditions, a field in which he is a recognized world authority.
Among multiple honor societies, Dr. Siegal is a Fellow of the Royal Society of Medicine, London and Phi Beta Delta, Honor Society for International Scholars. He has just completed a six-year term on the Mayo Clinic Alumni Association Board of Directors and currently serves on the Omicron Delta Kappa National Leadership Honor Society and Educational Foundation Board of Trustees. He has published more than 700 peer-reviewed manuscripts, book chapters, abstracts and other professional writings, along with nine books. He is the former Senior Associate Editor of The American Journal of Pathology and is one of the Section Editors for Bone and Soft Tissue Pathology for the Archives of Pathology and Laboratory Medicine, in addition to being the current Editor-in-Chief of Laboratory Investigation.
Dr. Siegal notes, "Being surrounded by a large cadre of highly dedicated volunteers and staff ensures the ongoing success of ASCP as we prepare ourselves to enter the next century of service to our colleagues and our patients."
A longtime volunteer with ASCP, he most recently served as Chair of the Commission on Science, Technology and Policy, and served on the Finance Committee and the ASCP Board of Directors. Among his many other volunteer activities with ASCP, Dr. Siegal is a former member of the ASCP Annual Meeting Education Committee, the Commission on Membership and former Chair of the Fellow Council. A frequent contributor to the educational activities of the Society, Dr. Siegal previously presented the Arthur Purdy Stout Lecture for Pathologists and the Anatomic Pathology Slide Seminar on bone tumors at the Annual Meeting.
Dr. Siegal completed medical school at the University of Louisville, in Louisville, Kentucky, his residency at the Mayo Clinic Graduate School of Medicine, Rochester, Minnesota, and a PhD at the University of Minnesota, in Minneapolis. He completed fellowships at Mayo, the University of Minnesota and at the National Cancer Institute, the National Institutes of Health, in Bethesda, MD.