Heidi Connolly, M.D., receives Cardiac Problems in Pregnancy 2018 Distinguished Award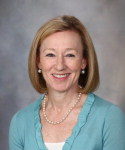 Heidi Connolly, M.D. (I '89, CV '93), Division of Structural Heart Disease, Department of Cardiovascular Medicine at Mayo Clinic in Rochester, received the Cardiac Problems in Pregnancy (CPP) 2018 Distinguished Award. The award recognizes her outstanding contribution to the field of pregnancy and heart disease. She received the award at the 5th International Congress on Cardiac Problems in Pregnancy in Bologna, Italy.
Dr. Connolly is a professor of medicine in the Mayo Clinic College of Medicine and Science.