Horng Chen, M.D., receives RO1 grant from NHLBI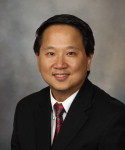 Horng Chen, M.D. (I '97, CV '98, CV '01), Department of Cardiovascular Medicine at Mayo Clinic in Rochester, received an RO1 grant for four years from the National Heart, Lung, and Blood Institute (NHLBI) to investigate preclinical diastolic dysfunction in type 2 diabetes.
Dr. Chen is a professor of medicine in the Mayo Clinic College of Medicine and Science.