Hutton Kearney, Ph.D., elected to American College of Medical Genetics and Genomics board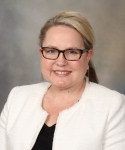 Hutton Kearney, Ph.D. (LABM & PATH '14), vice chair of Hereditary Genomics in the Division of Laboratory Genetics and Genomics, was elected to the American College of Medical Genetics and Genomics (ACMG) board of directors for a six-year term in the role of cytogenetics director. She is a member of the ACMG Continuing Certification Program Committee.
Previously, she chaired the ACMG Laboratory Quality Assurance Committee. She has also served as cytogenetics and laboratory genetics and genomics section editor for the organization's monthly journal, Genetics in Medicine. She has authored numerous professional standards and guideline publications on behalf of ACMG, the Clinical & Laboratory Standards Institute and ClinGen, primarily related to implementation and interpretation of chromosomal microarray and other whole-genome testing approaches. She has authored more than 40 peer-reviewed publications, reviews, and book chapters. Her research interests include mechanisms of DNA repair and recombination underlying complex genomic structural variation.
Dr. Kearney is an assistant professor of laboratory medicine and pathology in the Mayo Clinic College of Medicine and Science.