Ian Lanza, Ph.D., receives Mayo Clinic Office of Health Disparities Research-SCORE pilot award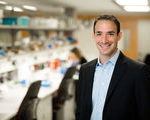 Ian Lanza Ph.D. (ENDO '09, CTSA '13),  Department of Endocrinology at Mayo Clinic in Rochester, received a 2019 Mayo Clinic Office of Health Disparities Research-SCORE pilot award for his project "Age-by-sex Interaction in Sarcopenia of Aging." The award mechanism is an outcome of collaboration between the Mayo Clinic Office of Women's Health Research and Office of Health Disparities Research.
Sarcopenia refers to the deterioration of muscle mass and muscle function that occurs with aging. Sarcopenia is a major factor contributing to physical impairment with aging and predictive of disability.
The request for applications solicited proposals that align and extend the research proposed in the federally funded Mayo Clinic Specialized Center of Research Excellence (SCORE) grant led by Michelle Mielke, Ph.D. (HSR '11), Department of Health Sciences Research.
The long-term objective of this study is to discover effective, realistic, and economical countermeasures to sarcopenia. The project is designed to determine how age-related chronic inflammation may contribute to sarcopenia. This funding will support an ancillary study to specifically interrogate sex differences and age-by-sex interactions in the transcriptional response to a single bout of exercise.
Dr. Lanza has a joint appointment in the Department of Physiology and Biomedical Engineering and is an associate professor of medicine.