Jamie de la Garza, M.D., reflects on historic oncology career in ASCO magazine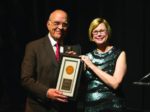 Jaime de la Garza, M.D. (ONCL '66), was featured in the ASCO (American Society of Clinical Oncology) magazine, reflecting on his historic oncology career.
Dr. de la Garza is internationally recognized as the pioneer of medical oncology in Mexico. He has served for a decade as the general director of the Instituto Nacional de Cancerologia and is a founding member of the Latin American and Caribbean Society of Medical Oncology (SLACOM) and the Mexican Oncology Board.