Jeffrey Geske, M.D., receives Golden Apple Award from Mayo medical students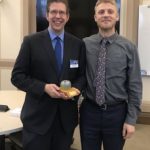 Jeffrey Geske, M.D. (MED '07, I '10, CV '14), Division of Structural Heart Disease, Department of Cardiovascular Medicine, Mayo Clinic in Rochester, received the Golden Apple Award from the Mayo Clinic Alix School of Medicine class of 2020.
The Golden Apple Award is an honor presented annually to a pre-clinical educator who displays unique skill and extraordinary dedication in teaching undergraduate medical students. The awardee is selected by the second-year medical students and is an educator who exemplifies the educational mission of the school through commitment to students' learning both inside and outside the classroom, engaging curriculum and teaching style, and ability to promote further learning and student growth.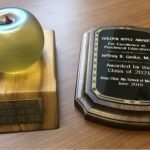 As one of the circulation block leaders, Dr. Geske provided students with an exciting course that sparked interest in the cardiovascular system through engaging and upbeat lectures and inspired students to continue to find new and fun ways to teach and learn.
Dr. Geske is an associate professor of medicine in the Mayo Clinic College of Medicine and Science.