Joaquin Garcia, M.D., is program director, MCSHS Histology Technician Program, Rochester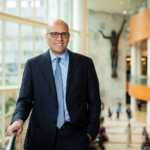 Joaquin Garcia, M.D. (APTH '09), Division of Anatomic Pathology at Mayo Clinic in Rochester, is medical director of the Mayo Clinic School of Health Sciences Histology Technician Program in Rochester.
Dr. Garcia is a professor of laboratory medicine and pathology in the Mayo Clinic College of Medicine and Science.