John Gebhart, M.D., receives Mayo Clinic Values Council research award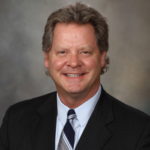 John Gebhart, M.D. (OBG '98, GYNP '01), Department of Obstetrics & Gynecology at Mayo Clinic in Rochester, received a 2017 research award from the Mayo Clinic Values Council Research Committee.
The committee sponsors values-based research and quality improvement proposals with an annual competition for funding. Awards are granted to investigators whose proposals show potential to advance Mayo Clinic values.
Dr. Gebhart's proposal was "Assessing Opioid Stewardship in Female Pelvic Surgery Practice." His co-author was Brian Linder, M.D. (PRES '11, U '15), (OBG '98, GYNP '01).
Dr. Gebhart is a professor of obstetrics and gynecology in the Mayo Clinic College of Medicine and Science.