John (Jack) O'Horo, M.D., receives Denis A. Cortese M.D. and Donna H. Cortese Innovation Award in the Science of Health Care Delivery
John (Jack) O'Horo, M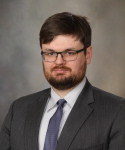 .D. (CCMI '14, CTSA '14, INFD '16, INFD '17), Division of Infectious Diseases and Division of Pulmonary and Critical Care at Mayo Clinic in Rochester, received the second annual Denis A. Cortese M.D. and Donna H. Cortese Innovation Award in the Science of Health Care Delivery.
Dr. O'Horo proposes to develop a toolkit for early recognition and treatment of patients with or at risk of developing sepsis. The goal of this project is to assemble and pilot a prototype toolkit based on an epidemiologic study and stakeholder input, and then to improve its usability in a simulation setting before attempting a clinical trial.
Dr. O'Horo is an assistant professor of medicine in the Mayo Clinic College of Medicine and Science.