Jonathan Finnoff, D.O., is chief medical officer U.S. Olympic & Paralympic Committee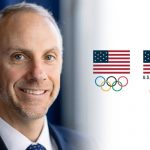 Jonathan Finnoff, D.O. (SPMD '00), is now chief medical officer of the United States Olympic & Paralympic Committee. Dr. Finnoff is responsible for setting and implementing the USOPC's strategic direction for promoting holistic athlete well-being, including physical and mental health, in ways that directly improve Team USA athletes' day-to-day lives, on and off the field of play.
Dr. Finnoff's key areas of responsibility include oversight of USOPC sports medicine personnel, policies and procedures, and collaborating with various stakeholders — including National Governing Bodies, international partners, external providers and internal departments — to foster the sustained health and wellness of American athletes through excellence in evidence-based medical, technological, preventative and recovery support services.
Dr. Finnoff joins the USOPC after serving as medical director for the Mayo Clinic Sports Medicine Center in Minneapolis, where he has served as a team physician for the Minnesota Timberwolves NBA and Lynx WNBA teams since 2014. He has also served as a team physician for the U.S. Ski & Snowboard Association since 2003, specializing as the head team physician for the U.S. Nordic Combined Ski Team for the last five years during which time he accompanied Team USA to the Olympic Winter Games in 2014 and 2018. He was first introduced to the Olympic and Paralympic movements in 2002, when he served as medical director of the Soldier Hollow athletes' clinic for the Olympic Games and the venue medical officer at the Paralympic Games in Salt Lake City.
Dr. Finnoff is now located in Colorado Springs, Colorado.