Joy Wolfram, Ph.D., elected a member of Global Young Academy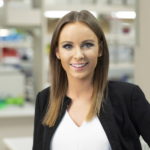 Joy Wolfram, Ph.D. (TRANM '17), Department of Physiology and Biomedical Engineering, Department of Transplantation Medicine at Mayo Clinic in Florida, was elected a member of the Global Young Academy. Members are selected for their scientific excellence and commitment to service.
The Global Young Academy represents 83 countries and is limited to 200 members. The academy provides a rallying point for outstanding young scientists from around the world to come together to address topics of global importance. The academy also empowers young researchers to lead international, interdisciplinary and intergenerational dialogue to make global decision-making evidence-based and inclusive.
Dr. Wolfram is director of the Nanomedicine and Extracellular Vesicles Laboratory on Mayo's Florida campus and an assistant professor of medicine in the Mayo Clinic College of Medicine and Science.