Kebede Begna, M.D., receives Mayo Clinic Abroad Award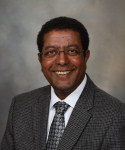 Kebede Begna, M.D. (HEMO '06), Division of Hematology, Department of Medicine, Mayo Clinic in Rochester, received a Mayo Clinic Abroad Award from the Mayo Clinic Abroad Small Grants Program to host Dawit Wondimagegn Gebreamlak, M.D., from Tikur Anbessa Hospital in Ethiopia for speaking engagements and interactions with medical students, residents, consultants and others interested in global health.
Dr. Begna is an associate professor of medicine in the Mayo Clinic College of Medicine and Science.