Kenneth Merrell, M.D., receives Mayo Clinic Abroad Award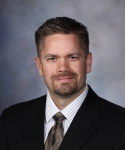 Kenneth Merrell, M.D. (RADO '16), Department of Radiation Oncology, Mayo Clinic in Rochester, received a Mayo Clinic Abroad Award from the Mayo Clinic Abroad Small Grants Program to support a cancer awareness event at Komfo Anokye Teaching Hospital in Ghana.
Dr. Merrell is an assistant professor of radiation oncology in the Mayo Clinic College of Medicine and Science.