Kevin Halling, M.D., Ph.D., receives Association for Molecular Pathology Meritorious Service Award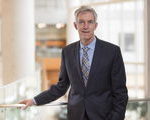 Kevin Halling, M.D., Ph.D. (PATH '94, CMG '95, MOGEN '95), Department of Laboratory Medicine and Pathology at Mayo Clinic in Rochester, received the Association for Molecular Pathology (AMP) Meritorious Service Award at the AMP 2018 annual meeting in San Antonio, Texas. The award recognizes dedication and effort to AMP and its members.
Dr. Halling was honored for his countless volunteering efforts and commitment through the years. He has served as the director of AMP's Molecular Genetic Pathology Review Course for three years. He helped transform the course through his service and vision.
Dr. Halling is a professor of laboratory medicine and pathology in the Mayo Clinic College of Medicine and Science.