LaPrincess Brewer, M.D., receives NIH R21 grant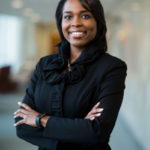 LaPrincess Brewer, M.D. (CV 16), Division of Preventive Cardiology, Department of Cardiovascular Medicine at Mayo Clinic in Rochester, received a two-year NIH R21 grant award for "The FAITH! Trial: A Health Intervention to Improve Cardiovascular Health Among African-Americans." The grant will expand her work promoting cardiovascular health and wellness among African Americans by using a community-based participatory research approach to test an innovative mobile-health intervention.
Dr. Brewer is an assistant professor of medicine in the Mayo Clinic College of Medicine and Science.