M. Fernanda Bellolio, M.D., receives Cortese family grant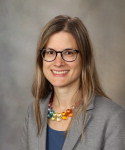 M. Fernanda Bellolio, M.D. (CTSA '09, EM '12), Department of Emergency Medicine at Mayo Clinic in Rochester, received a Cortese family grant to assess how and when to screen emergency department patients for delirium. Dr. Bellolio is an associate professor of emergency medicine in the Mayo Clinic College of Medicine and Science.
The Cortese family grant was established in 2017 by Denis Cortese, M.D. (I1 '71, I '72, THD '76), who served as Mayo Clinic CEO from 2003 to 2009; and his wife, Donna, to develop, test and implement innovative solutions for health care delivery. The award is managed by the Mayo Clinic Robert D. and Patricia E. Kern Center for the Science of Health Care Delivery.