Matthew Klein, M.D., elected to 2nd term in Minnesota Senate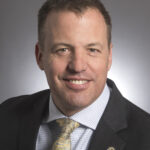 Matthew Klein, M.D. (MED '93), was elected to a second term in the Minnesota Senate. A member of the Minnesota Democratic-Farmer-Labor party, he represents Minnesota Senate District 52 in the southeastern Twin Cities.
Dr. Klein is a hospitalist at Hennepin Healthcare in Minneapolis, Minnesota, and an assistant professor of internal medicine.